The residents of Port Williams enjoy life in a thriving and picturesque Village. An agricultural community with excellent schools, continuous residential growth, business opportunities, fine recreational facilities, easy access to all amenities, all surrounded by the beauty of Minas Basin tides and dyke lands. Its history is rich with the legacy of the Mi'kmaq, Acadians, and Planters. Its future is bright with the promise of those who choose to live, work and raise their families here.


Port Williams is located in Kings County, Nova Scotia, between and to the north, of the towns of Wolfville and Kentville. The Village area comprises all the land between the Canard and Cornwallis Rivers, extending approximately two miles east to Starr's Point and two miles west to Tiny Parish Road.

Visitors may reach the village via Nova Scotia Highway 101 west from Halifax or east from Yarmouth at Exit 11. Signs for Prescott House Museum and Blomidon Park are located at this intersection.

The parking area before the bridge at the entrance to Port Williams offers an excellent opportunity to view the Minas Basin tides facing the old wharf which was once a hub of activity (see History). Tourists and residents often choose to enter the pathway to the dyke at this point and enjoy the flora, fauna and salt air of the marsh and dykeland.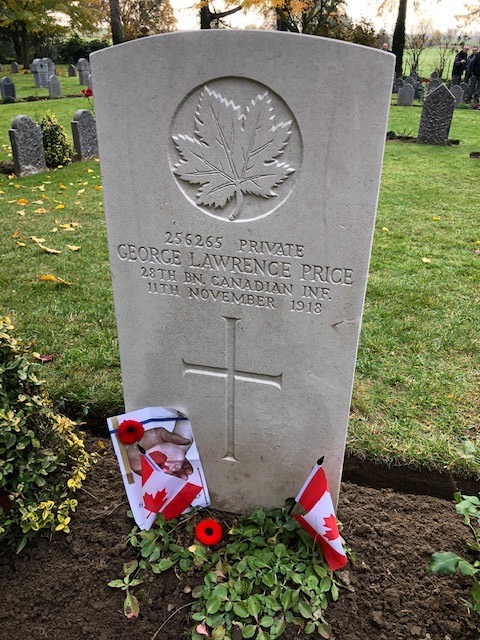 In this photo of Pte George Price's marker you can see a program from the Port Williams Remembrance Day Observance and the poppy worn by a member of the RCMP Pipes and Drums who played at our ceremony and at a ceremony in Belgium.


The Village of Port Williams Remembrance Day Observance was on Sunday, November 4th. This year marks the 100th anniversary of the end of the First World War and 8 members of this community were casualties.
We would like to thank the following who participated in our service; His Honour, The Honourable Arthur LeBlanc, Lieutenant Governor of Nova Scotia and Her Honour Mrs. Patsy LeBlanc, The West Nova Scotia Regiment Quarter Guard, 1st Field Artillery Regiment, Branch 73, Royal Canadian Legion, Canning, Nova Scotia RCMP Pipes & Drums, Atlantic Canadian Military History Association and the Choir from the Port Williams Elementary School. The Service was conducted by Rev Dr Don Flowers , Port Williams United Baptist Church and Capt Rev Maya Bevan, St Johns Anglican Church.
The Village has on display, on the fence along the driveway at the Community Centre, posters Honouring our casualties, including Pte George Price the last Soldier to be killed at 2 minutes to Armistice.

Photos of our Remembrance Day Observance and a link to the CTV Atlantic news story and video can be found in the Village Photo Gallery.